MONTHLY FEES
1x/wk – $75 + gst
2x/wk – $100 + gst
Classes are 1 HR in duration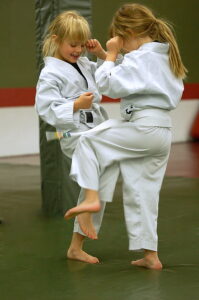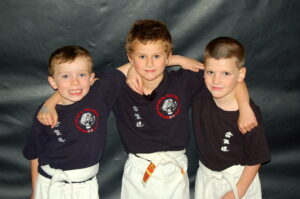 AGES:  3.5 to 8 yo
Have a child that is bouncing off the walls with pent-up energy, dealing with shyness or needing structure and/or discipline?
The Lil Tigers program was designed to introduce them to martial arts in a fun and dynamic atmosphere where kids can be kids, while still learning (life's) disciplines.  The core of the program is called 'Gym-Kata', a combination of martial arts & gymnastic skills that will help develop a child's basic learning abilities.
TESTS / STRIPES:
We have developed a testing program for the Lil Tigers where they are able to earn a stripe (or stripes) on their white belt that reflects the belt levels in the upper classes. What is the purpose of this?
It's a perfect environment for young kids to learn about preparing, listening, trying their best, sportsmanship (attitude), and working towards a goal which leaves them with a feeling of self-worth and satisfaction when they obtain a new stripe. An invaluable lesson that will carry over into other areas of their lives. And honestly, it's an overall fun event for both students and their families.
CURRICULUM:
PKs (punch-kick sequences)
Basic grappling/sparring (mild / controlled contact)
Gymnastics
Shoulder rolls
High energy games to keep it fun while learning skills & discipline
Discussions on 'bullies'; how to handle situations
Discussions on when it's appropriate to use martial arts
Anatomy
DEVELOPS:
Hand / Eye coordination
Strength / Agility
Flexibility
Discipline / Listening skills
Manners / Respect
Self-Confidence
Fair play