* Two Different Training Options
* Choose Your Day & Times
* Must Form Your Own Group(s) To Register
FEES – FITNESS Class
FOR FAMILY of 2 KIDS:
$14 + gst = $14.70 / per student per class
FOR FAMILY OF 3+ KIDS (15% discount):

$12 + gst = $12.60 / per student per class
* No refunds.
* Class #'s Req'd:  Min- 12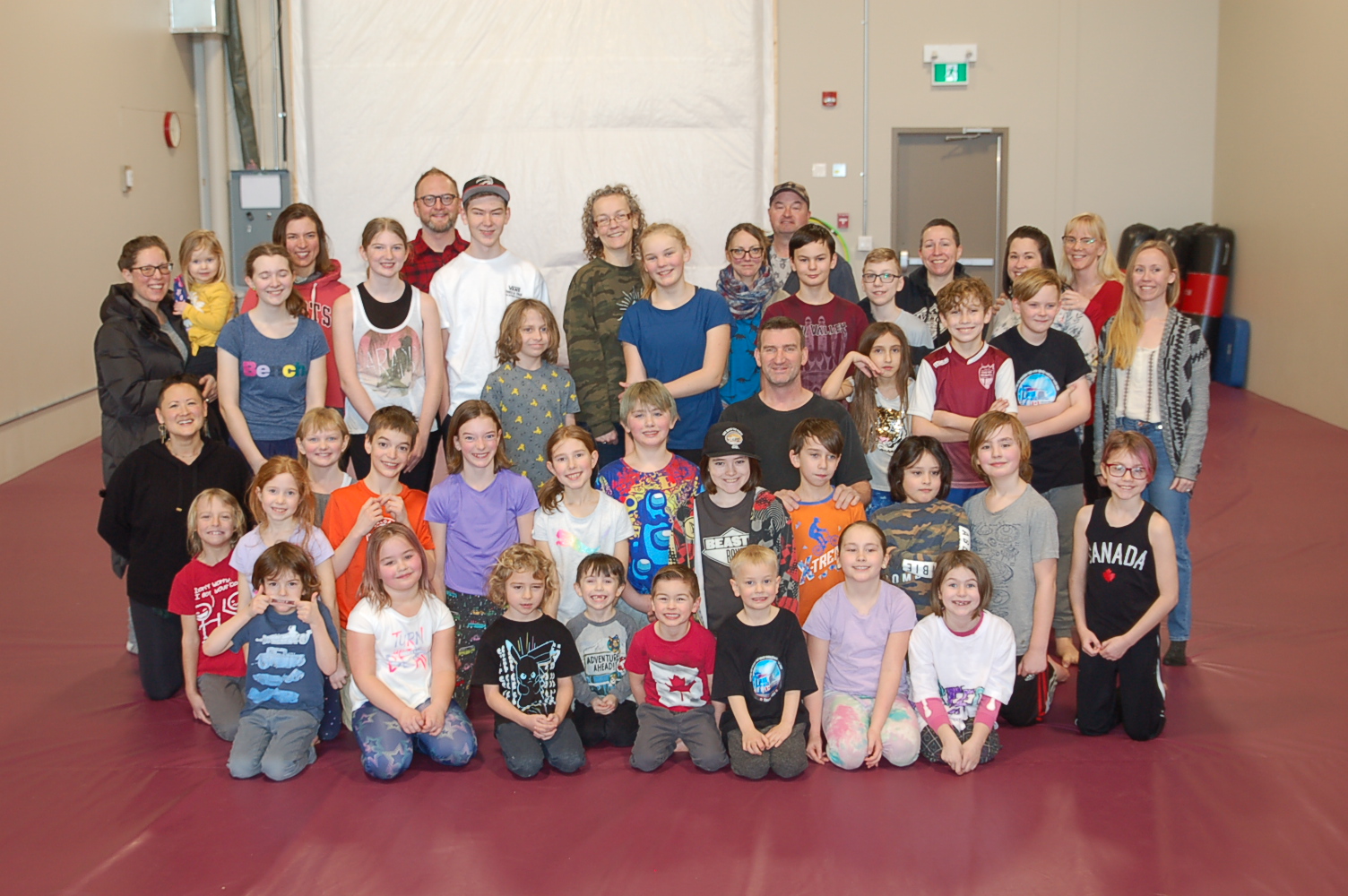 FITNESS

Class  
RDW is a family-based business that has been going strong for over 25 years, as well as having homeschooled our own kids for 13 years!
In a relaxed, welcoming environment this creative program brings diversity and finesse to all classes at RDW, allowing anyone to participate for one's own personal reasons, and keeping our students engaged and consistent in their training which will lead to positive results. It's a step away from the normal routine of getting into shape by being fun, yet challenging. 
 RDW provides an opportunity for kids to learn: 
Basic martial arts / gymnastics skills

Self-defense, kicking, sparring (light contact), grappling, rolls, head/handstands, handsprings, cartwheels, etc. (NOTE:  Some skills may be modified and/or omitted due to current restrictions)
Develop hand / eye coordination
Build muscles, coordination
Build core muscles, stretching
Life skills of:

Working individually and as a team
Listening
Focusing
Diligence
Commitment

Build confidence / self-esteem (great for shy kids)
Bully proofing tactics / techniques
  Fees – Martial Arts Class
JR / YTH & LIL TIGERS
FOR FAMILY of 2 KIDS:
 $16 + gst = $16.80 / per student per class 
FOR FAMILY OF 3+ KIDS (15% discount): 
$14 + gst = $14.70 / per student per class
TEST FEES for JR / YTH :
Each test unit costs $12.50 + gst per student
TEST FEES for LIL TIGERS: 
Each test costs $45 + gst per person and may test amongst the regular Lil Tigers on their test day (TBD) 
* No refunds.
* Class #'s Req'd:  Min. 12
MARTIAL ARTS

Class  
JR / YTH :  For Students Aged 9 to 13
This option is for those who want to work towards obtaining an official belt in Hapkido. It is taking our regular evening program that we teach and configuring it in a way that is more accessible for homeschool students.
How can this be done?
In addition to the class, 'cheat' sheets are available and parents are able to video tape various skills their child is working on so they can practice at home.
For testing, the curriculum will be broken into Test Units that contain certain skills a student needs to know. Pass a unit, move on to the next. Complete all four units, you have your belt!  Students work one on one with an instructor as well as in a group, and are constantly assessed on their progression.
TEST UNITS 
Test Unit #1:  Abdomen Breathing & PKs
Test Unit #2:  Patterns
Test Unit #3:  Kicks & Rolls
Test Unit #4:  Grappling, Sparring, Self-Defense
LIL TIGERS :  For Students Aged 4 to 8/9
For younger kids who are not quite ready for the full martial arts program, this is a way for them to earn a stripe (or stripes) on their white belt that reflects the belt levels in the upper classes. What is the purpose of testing? It's a perfect environment for young students to learn about preparing, listening, trying their best, sportsmanship (attitude), and working towards a goal which leaves them with a feeling of self-worth and satisfaction when they obtain a new stripe. An invaluable lesson that will carry over into other areas of their lives.
SKILLS LEARNED / TEST CRITERIA
| | | | | | |
| --- | --- | --- | --- | --- | --- |
| 360s | Cartwheels | Grappling | Break Falls | PKs | Head/Handstands |
| Rolls | Hand/Headsprings | Stretching | Sparring | Kicks | Push Ups |